When I started my own small business, I joined local chambers of commerce and it was one of the best business decisions I have made. I met many wonderful people, both local business professionals, and chamber staff members, and built lasting relationships with them. I also had an opportunity to launch a new lead share group with support from one of the chambers of commerce and its executive team. The Chamber of Commerce is such an invaluable institution to local businesses in the US and will continue to play a vital role in representing local business communities and being their voice.
Like any other business, chambers of commerce also have their challenges. One of their challenges is driving new memberships and improving member retention. Together with new challenges brought by the COVID-19 pandemic, chambers of commerce are looking at new and innovative ways to bring value to their members and keep them engaged. One such way is measuring ROI from business networking and building relationships using ChamberForge.
ChamberForge is a referral tracking platform built for businesses, business associations, chambers of commerce, and networking organizations. ChamberForge is a scalable platform that can be used by a single networking group with only 15-20 members or a national networking organization with hundreds of members. One of the largest organizations currently using ChamberForge has 24 chapters across the US with over 600 members. ChamberForge helps you track referrals and referral activities such as 1-to-1s, meeting attendances, and guests.
ChamberForge has its roots in the chamber of commerce. When I was on a leadership board for a lead share group at a local chamber of commerce in 2017, I created ChamberForge to help manage referral and guest data and format it in a way to communicate with the CEO of the chamber of commerce at the time. Since then, many business associations and referral groups have adopted ChamberForge and, as of today, over 300 networking groups and 3,000 users have created an account on ChamberForge.
Relatively new to the chamber of commerce community, ChamberForge has been adopted by several chambers of commerce in recent years. They include:
African American Chamber of Commerce
Conway Chamber of Commerce
Hispanic Chamber of Commerce of Metro Orlando
Little Rock Chamber of Commerce
Santa Rosa Metro Chamber of Commerce
The benefits ChamberForge provides for the chambers are straightforward. For a low cost of only $30/month, the tool frees up so much time for both chamber staff and lead share groups wanting to keep track of referrals and referral activities for their members. At the same time, they have direct visibility into how their members are helping each other with referrals and, lastly, members can see how their time and money investment into chamber membership, attending networking events, and building relationships are paying off - they can see it in concrete numbers provided by ChamberForge.
ChamberForge is primarily used by chambers with lead share groups but is not limited to them. Mostly all chambers have committees such as Ambassador Committee, Business Education Committee, Membership Committee, Public Policy Committee, and Young Professional Committee. These committees can use ChamberForge to track committee members and guests, recurring meetings, meeting attendances, committee documents, and referrals among members.
Once you have your group - either lead share group or committee - set up on ChamberForge, which takes just a couple of minutes, your members will have access to the Group Dashboard which shows activities of group members over 12 months. In addition, all members will have access to their Member Dashboard that will show various metrics relating to their networking activities. From that point on, members can start tracking how their networking efforts directly result in revenues generated for their business.
Below is a screenshot of Group Dashboard where members can see the running performance of their group: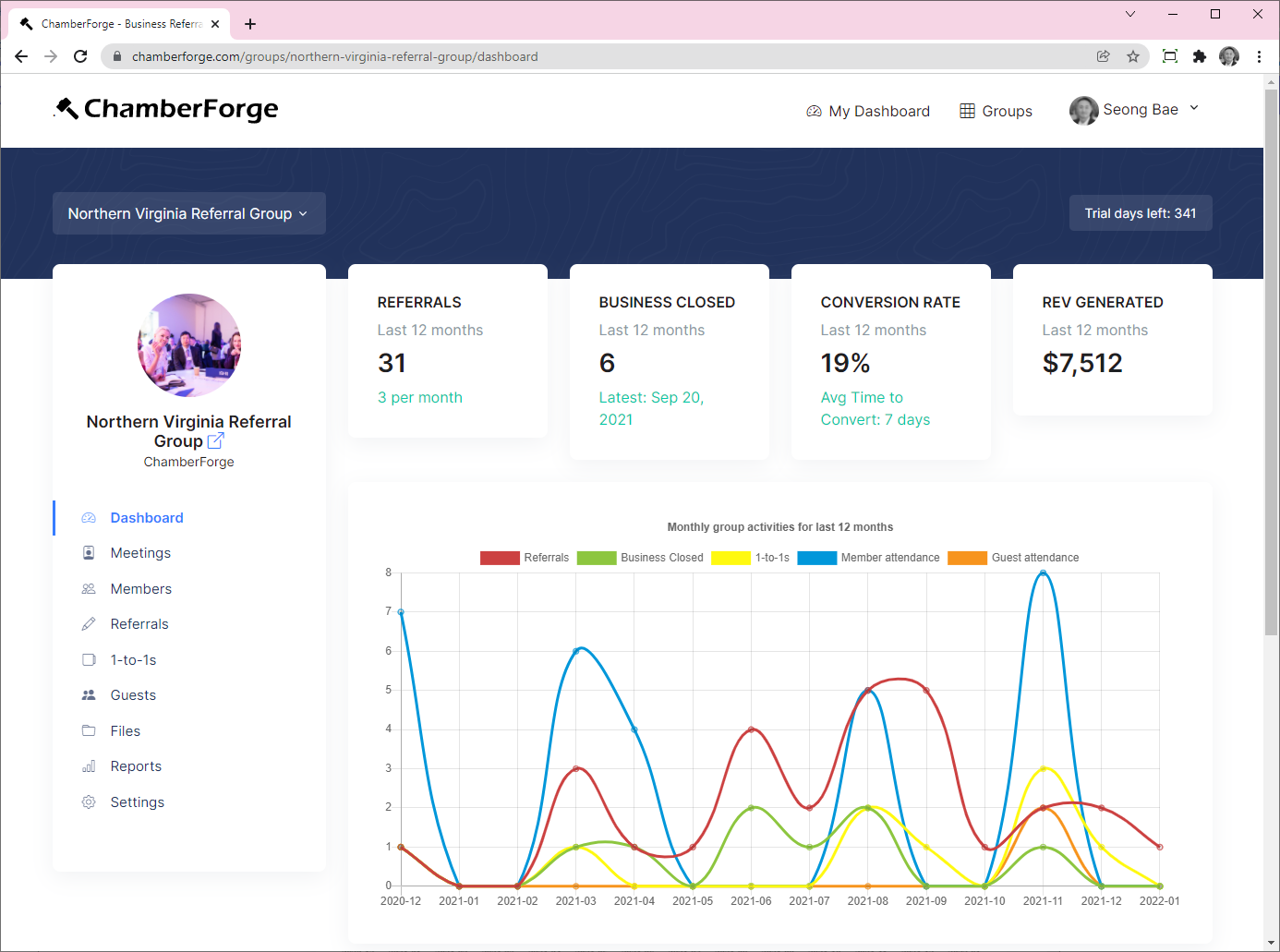 Members will also see the activities of other members in their group and how everyone in the group is helping each other. This creates a sense of shared responsibility and helps build accountability. It also promotes transparency as all member activities are visible to each other. In the world of the COVID-19 pandemic where online meetings via Zoom are becoming the norm, building and promoting transparency will be greatly appreciated by your members.
Lastly, I have seen chamber staff members being tied up with keeping track of meeting attendances, referrals, and guests. I have seen them use Microsoft Excel and Google Sheets to try to manage the data but, after some time, it just becomes too hard to manage. When you use ChamberForge, everyone contributes - all members report their activities themselves, lifting a huge burden on chamber staff and distributing the responsibility equally to all members. Chamber staff can then spend their valuable time on higher priority efforts, rather than being bogged down to managing and organizing data. If they wanted to see how the group is doing, they can quickly generate reports. Below are two examples of reports provided ChamberForge: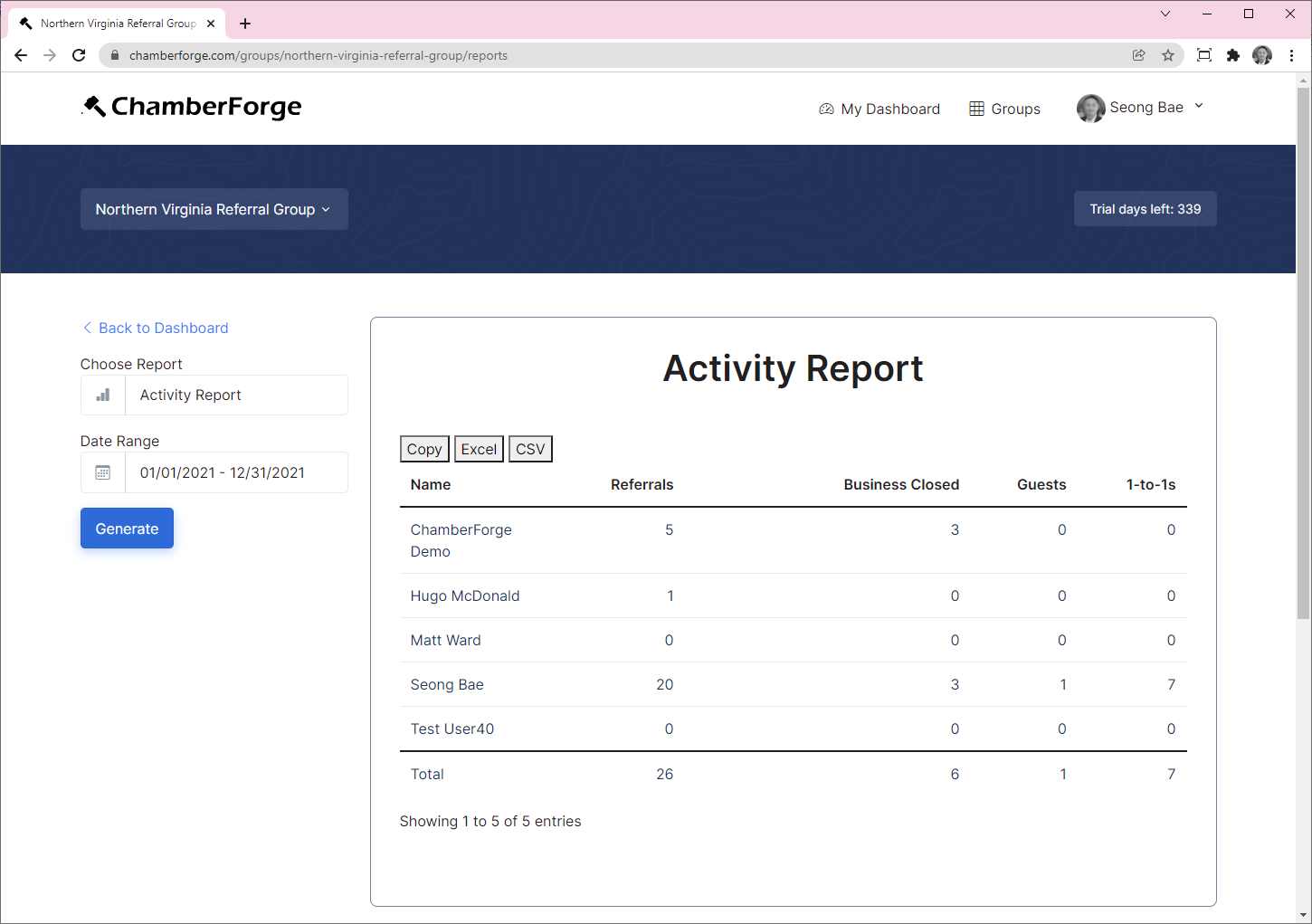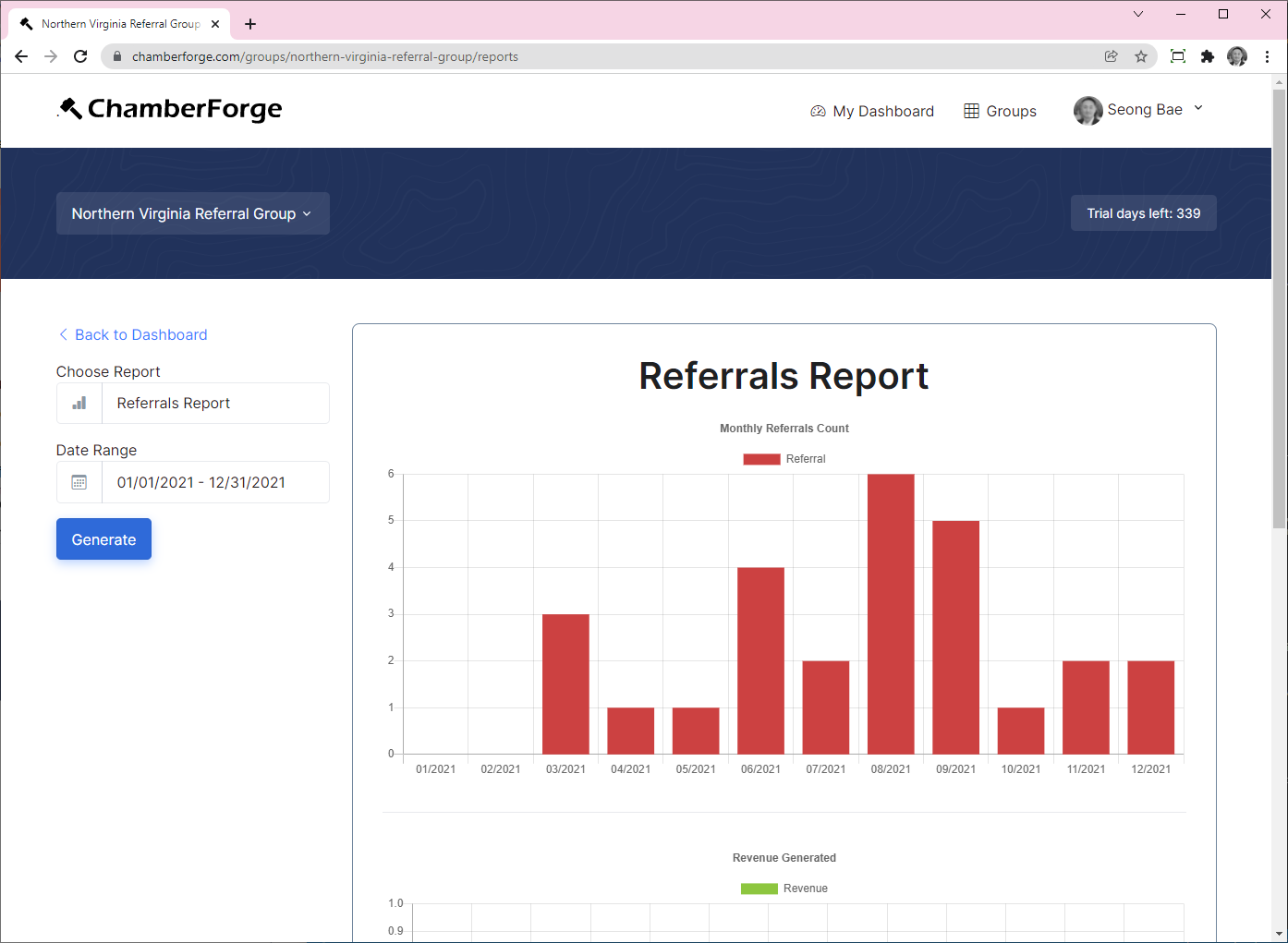 Adopting ChamberForge for your organization to track referral activities will be innovative and, at the same time, affordable at only $30/mo. Add it to your member benefits list. Your members and chamber staff will appreciate all the benefits ChamberForge will provide.